Lets talk minerals… mineral makeup that is! I first started experimenting with mineral foundation way back in 2006 during my college days. I discovered that applying a light dusting of the stuff was much easier and more time efficient than liquids and creams when I was running late to class. I also discovered that I preferred the feel and finish of mineral powder.
These days I have been using Mineral Hygienics and their cruelty free, 100% natural formulas. I have really been enjoying the look and feel of the products I got to try. In addition to being pure, animal friendly, and fabulous, the products actually come in fairly large jars so you're getting a good amount of product for your dollar!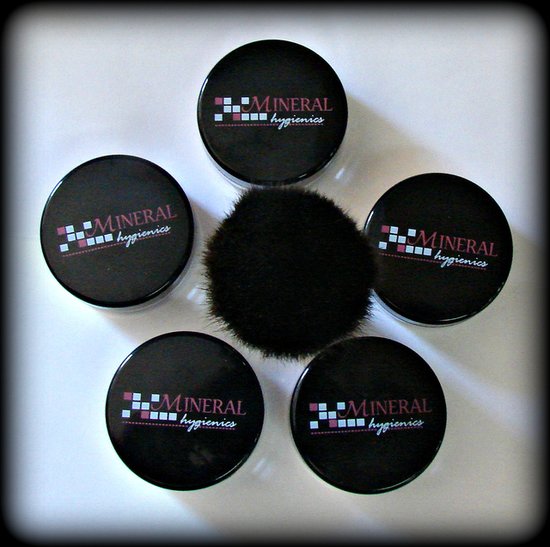 The company has 15 shades of their Sheer Mineral Foundation with both cool and warm undertones, from the fairest of the fair to deep shades, so everyone should be able to find their perfect shade. I was sent
Light
,
Medium Light
, and
Medium
. Light and Medium are perfect for me since they have a slightly more yellow undertone (Medium Light is a little pink and is perfect for my Mom!) and I actually wear both at the same time. What I do is use Light in the center of my face and Medium around the outer parts of my face, which helps add dimension. However, they are very similar in color and both work well for my skin tone.
The ingredients list of Mineral Hygienics foundation is comprised of Titanium Dioxide, Zinc Oxide, Mica and may also contain Iron Oxides and Ultra Marines. The formula is very fine in texture and blends into the skin really easily. It almost melts into the skin once applied and looks flawless, but not in an artificial way. It never looks flat, nor does it have shimmer that makes it look overly luminous. The formula has a very natural looking finish that can be applied in a sheer layer or built up for more coverage. It also doesn't irritate my skin like some other mineral foundations can.
In addition to the Sheer Mineral Foundation I have also been using the
Sheer Perfection Mineral Finish in Transluscent
. It seems a little strange to set powder with powder but this particular product can be used as a powder primer that evens out the tone and texture of the skin or as a finishing touch on top of foundation. I find that I don't use this every day but I do, however, like to use this to touch up when I start to get a little shiny in the afternoon or evening.
The final Mineral Hygienics product that I have been using is the
Cool Kiss Mineral Bronzer
. This product is a shimmery, cool-toned Mineral Enhancer that doesn't look great on my skin. I have found that it is just a touch too shimmery for my tastes for me to wear as a cheek product but it looks so amazing as an eye shadow! I've been rocking it on my lids and really love the effect!
I was also sent the
Full Coverage Kabuki Brush
and it couldn't be more perfect for buffing my minerals into the skin with. It provides such an even coverage, has super soft and fairly dense bristles, and is the perfect size and shape. I absolutely love the handle because it makes it a little easier to use than regular kabuki brushes.
You can learn more about the company and their product offerings by visiting
their website
. You can also find them on Facebook and Twitter.