I meant to get this review up a few weeks ago but a lot of life things have gotten in the way, which also means I'll be taking a few weeks off to get everything sorted (and to enjoy the holidays), before I jump back into writing but I promise I will have a lot of new DIY posts and fun things to share in the new year. I will also be posting on the Facebook page.
Anyway, back to the topic at hand – today I'm sharing my thoughts on
Route One Pumpkins
. I got to try out some of their products and I think you will really like their line of natural handcrafted soap and skin care products that are made with Organic Sugar Pie Pumpkin Seed Oil and other pure and healthy ingredients. You will never find parabens, phthalates, soy, gluten, nut oils, petroleum based ingredients or anything artificial in their products. They also believe in sourcing their ingredients locally. They are located in Half Moon Bay, Ca and their pumpkins come from Tunitas Creek Family Farm, just South of Half Moon Bay.
In addition to being clean their products are also Leaping Bunny Certified and they even have an English Setter named Finnegan (Fun Fact: I have a cat named Finnegan) and an Irish Red and White Setter named Madeleine on their "staff". How cute is that?
Their soaps are ph-balanced and made with sunflower and pumpkin seed oils as well as avocado, shea butter, organic jojoba, and meadowfoam seed. I got to take the
Bee's Knees Bar Soap
for a test drive… err, a test shower? Hmm, that didn't work but hopefully you get what I'm trying to say. This particular bar of soap is made with locally and responsibly harvested beeswax and honey as well as blue chamomile. If you have been around Beautiful Basics for a while now you know how obsessed with honey I am, but if you're new around here just trust me when I say I'm crazy for all beauty things related to bees. This soap has a slightly sweet and floral scent. It lathers well, rinses beautifully, and leaves skin feeling lovely. It's perfect for sensitive skin!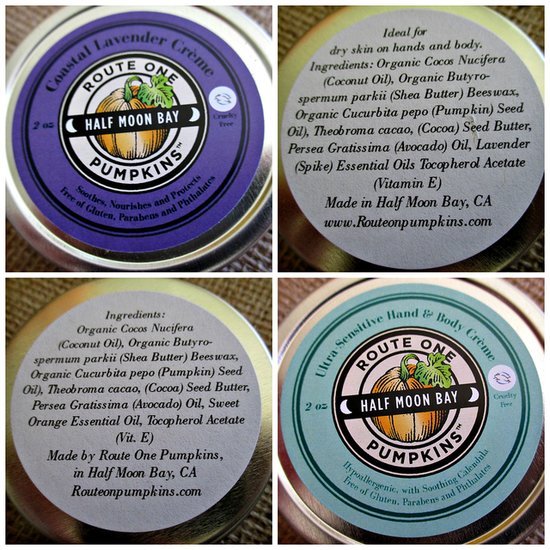 I also got to try the
Coastal Lavender Crème
and
Ultra Sensitive Hand and Body Crème
; each of these comes in an adorable 4 oz tin with a gorgeous label. The Ultra Sensitive Body Butter is made with shea butter, avocado infused with calendula, cocoa butter, and beeswax. This one has a little sweet orange oil so it has a very light fragrance. The Coastal Lavender is made with organic coconut, shea butter, avocado oil, cocoa butter, pumpkin seed oil and beeswax. It has a wonderful and true lavender scent. They provide intense hydration and work best when applied to skin directly after a bath or shower. It locks in moisture and keeps skin looking and feeling wonderful. I like to use the Sensitive one during the day on my hands and chest in particular and love the Lavender at night before bed. I really enjoy them!
To learn more about Route One Pumpkins or their lineup of products you can very their website by clicking
here
.