I think Subscription Boxes, like Yuzen, make a fantastic gift for any special event you can think of. Birthday? Check. Anniversary? Of course. Just because? Perfect! Christmas? Yes, please! And you might be thinking, "It's probably too late to order a box for Christmas," but you would be wrong. To ensure it arrives by Christmas Eve you just need to get your order in by the 19th.
I first reviewed Yuzen (If you're curious about the name of the box, Yuzen is a beautiful Japanese paper, also known as Chiyogami, and is included in each box) back in
July 2012
, but I was recently sent their Winter Box and their One Time Holiday Box to review on Beautiful Basics. Both boxes are awesome and I'm excited to get to talk about them today. Included in each box, besides the gorgeous paper, are natural and/or organic and eco-friendly products that are good for your skin, body, home and peace of mind.
Before we get into the contents of the boxes let's talk business. You can purchase a subscription to
Yuzen
for yourself or as a gift for $33 a box, with a box arriving at your home every season. You can also purchase a single gift box, like the Holiday Box, for $33. The price includes shipping.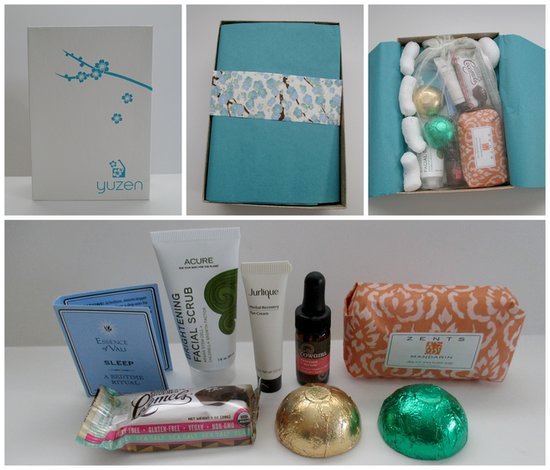 Let's talk about the
Winter Box
(which is for Nov-Jan) first since it is part of the regular subscription. I wasn't as impressed with this box as I was with Holiday Box but my Mom really loved a lot of the items in this one! So, what did I find when I opened the box?
Acure Organics Brightening Facial Scrub
This is my favorite item included in this box. I have tried a lot of Acure Organics products but never this scrub. I had heard a lot of good things and I'm so glad I got to try it because it's really, really great!

Cowgirl Extreme C Serum

Essence of Vali Sleep

JJ's Sweets Chocolate-Covered Cocomels with Sea Salt

Jurlique Herbal Recovery Eye Cream

SALUS Shower Bombs in Eucalyptus and Lemongrass

Zents Mandarin Soap
This soap was what my Mom was most excited about. She loves the scent!

As for the single
Holiday Box
– I loved it and everything in it! This might be my favorite box that I have ever received because I liked every single item that was included.
Acure Brightening Facial ScrubLike I mentioned above, this scrub is great and I love the size!

SpaRitual Cuti-Coctail Pen & Pusher
My cuticles have been an absolute mess and this has come in handy! I really like the formula and the applicator.

Eminence Wild Plum Eye CreamI seriously love Eminence and this eye cream is fantastic. It smells great and it actually makes a huge difference in my under eye area.

Kneipp Balancing Lavender Herbal BathI have always wanted to try Kneipp so I was so happy to see this in the box! It's seriously great!

MyChelle Dermaceuticals Ultimate Lash and Brow SerumI haven't used this yet, but I will and I'll let you know what I think.

Sencha Naturals Pink Dragonfruit MintsThese are yummy!

Sranrom Urban Wellness Calm Down Hand CreamThis leaves hands feeling ridiculously soft and hydrated while smelling really nice. It actually smells a lot like Tazo Zen Tea.

If you would like to read more about the products and why Yuzen selected them you can click
here
. You can also visit their
website
to learn more about Yuzen or to purchase a subscription or individual box.

Even Hunter likes Yuzen!